Several awards were handed out at the SSEA Conference in San Diego and an additional award was distributed just prior to the meeting.
Congratulations to all of the winners for their contributions to the field.
Jeffrey Jensen Arnett Outstanding Dissertation Award: Sam McKay, Orygen and The University of Melbourne; Dissertation Title: Identity change and development as a potential explanatory mechanism of the outcomes of student exchange experiences
Dr. Sam McKay is a postdoctoral researcher at Orygen, and the Centre for Youth Mental Health, University of Melbourne where he currently leads the education research stream in the Suicide Prevention research group. Sam's research interests centre on youth mental health and the factors that promote healthy development during adolescence and emerging adulthood. He is currently leading the NHMRC funded Multi Modal Approach to Preventing Suicide in Schools (MAPSS) trial that is running across high schools in North West Melbourne. His other research explores the ways adapting to other countries and cultures influence international students' identities, skill development, mental health, and wellbeing. Sam Completed his PhD as part of a partner program through Swinburne University and the University of Bordeaux. His doctoral research assessed the outcomes and underlying change mechanisms of university exchange programs with Australian and French students.
Best Poster Award: Jihan Mahmoud, Florida Gulf Coast University; Poster Title: The relationship of depression, coping, physical activity, self-esteem, and selected demographics among emerging adult college students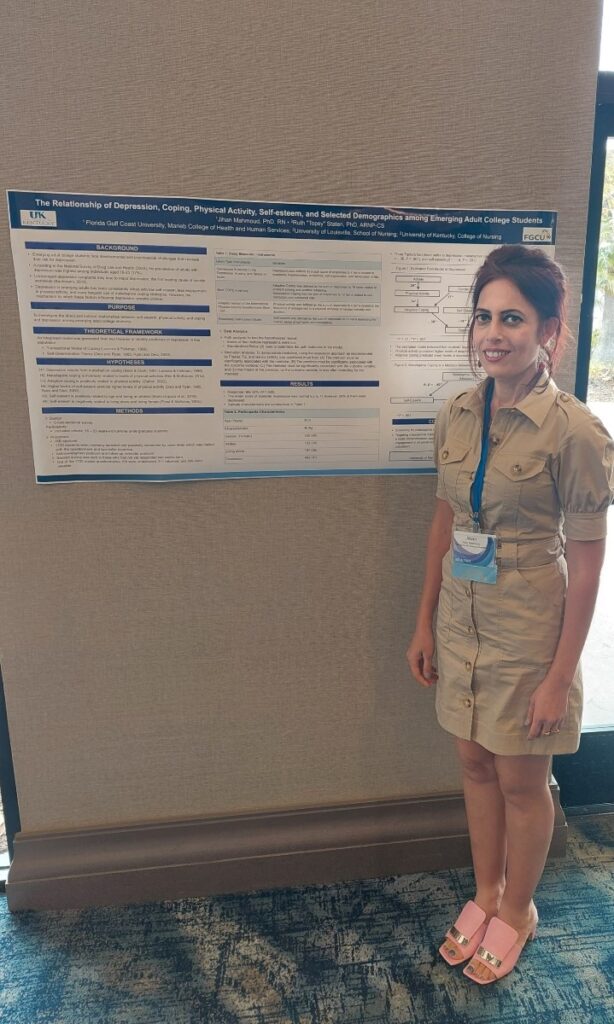 Jihan Mahmoud, PhD is a nursing professor at Florida Gulf Coast University where she is a member of an interdisciplinary research team that is focused on studying the mental and physical well-being of college students. As a scholar and academician, Dr. Mahmoud has a deep passion for promoting the well-being of emerging adult college students. In particular, she has a continuous interest in exploring cognitive-behavioral therapeutic and preventive strategies to facilitate adaptive and healthy transition for individuals in this population.Jihan has been a member at the Society for the Study of Emerging Adulthood (SSEA) since 2011. Her first participation at the biannual conference was sponsored by an SSEA travel award. However, she has been a dedicated reader of scholarly work and publications of pioneer theorists and leaders at SSEA since 2007 when she was a doctoral student at the University of Kentucky. Inspired by the emerging adulthood theory, Jihan developed an insight and a perspective on the sources of vulnerabilities in this population. Her published research work in this field examined anxiety, depression, stress, and coping.
Best Paper Award: Amber Davis, Johns Hopkins University; Paper Title: Exploring racial discrimination, disability discrimination, and perception of the future among autistic and non-autistic racialized Black young adults: A qualitative study
Dr. Amber Davis attained her B.S. from the University of Florida and completed her MSW from Florida State University. She completed her PhD in Social Work from Howard University in 2019 where she focused on issues related to disability policy and transition-age youth with disabilities. Dr. Davis is a Licensed Clinical Social Worker who has a keen interest in the intersectionality of disability, race, and class in order to tackle obstacles to African American youth with disabilities achieving a successful transition to adulthood. She was a postdoctoral fellow at the UC Davis MIND Institute prior to her current postdoctoral fellow appointment at Johns Hopkins University where she engages in research on disabilities from an intersectionality perspective and trauma-informed lens. She is also dually appointed at Kennedy Krieger Institute where she provides trauma therapy to youth who are typically developing and youth with autism.
Best Emerging Scholar Pre-Conference Presentation: Virginia Thomas, Middlebury College. Presentation Title: "It was life changing": Exploring how student exchange supports identity development and self-transformation from a cultural master narrative perspective
Virginia Thomas, PhD is an assistant professor of psychology at Middlebury College in Vermont. Trained as a developmental psychologist at the University of California, Santa Cruz, her research examines social and emotional development throughout adulthood, focusing on the intersections of solitude, identity, and well-being. She has been a member of SSEA since 2011.
Review Committee
Nominees for the Jeffrey Jensen Arnett Outstanding Dissertation Award and Outstanding Poster Award were reviewed by the SSEA Executive Committee. The Emerging Scholar Pre-Conference Presentations were evaluated by Drs. Jeffrey Arnett, Emily Morgan, Joseph Schwab, Margherita Lenz, Larry Fortune, and Larry Nelson.